We are an Active school and we're  so cool
We have football, hurling sports galore
And even love to hit the dance floor
Our committee help us be active stars
They work hard together to set the bar
They want to see the way we shine
So we swing our hands, run and smile
We move together rain or shine
Together we're active stars sublime.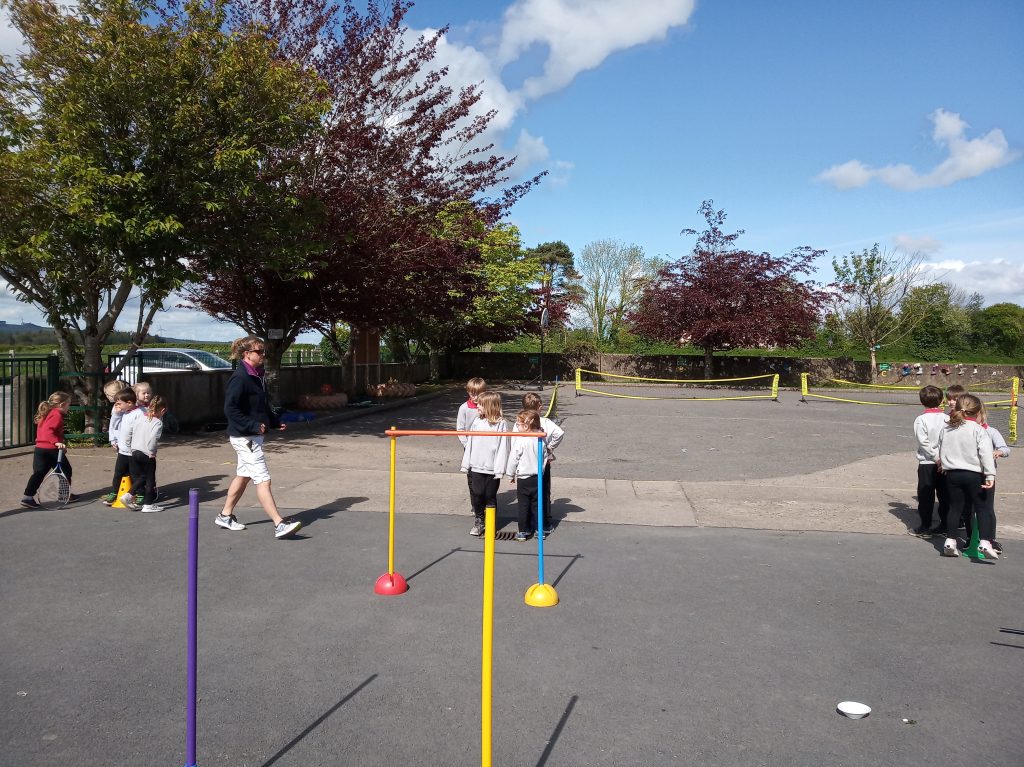 Active School Slogan 2020
Don't just sit, be active and fit, it is wise to exercise.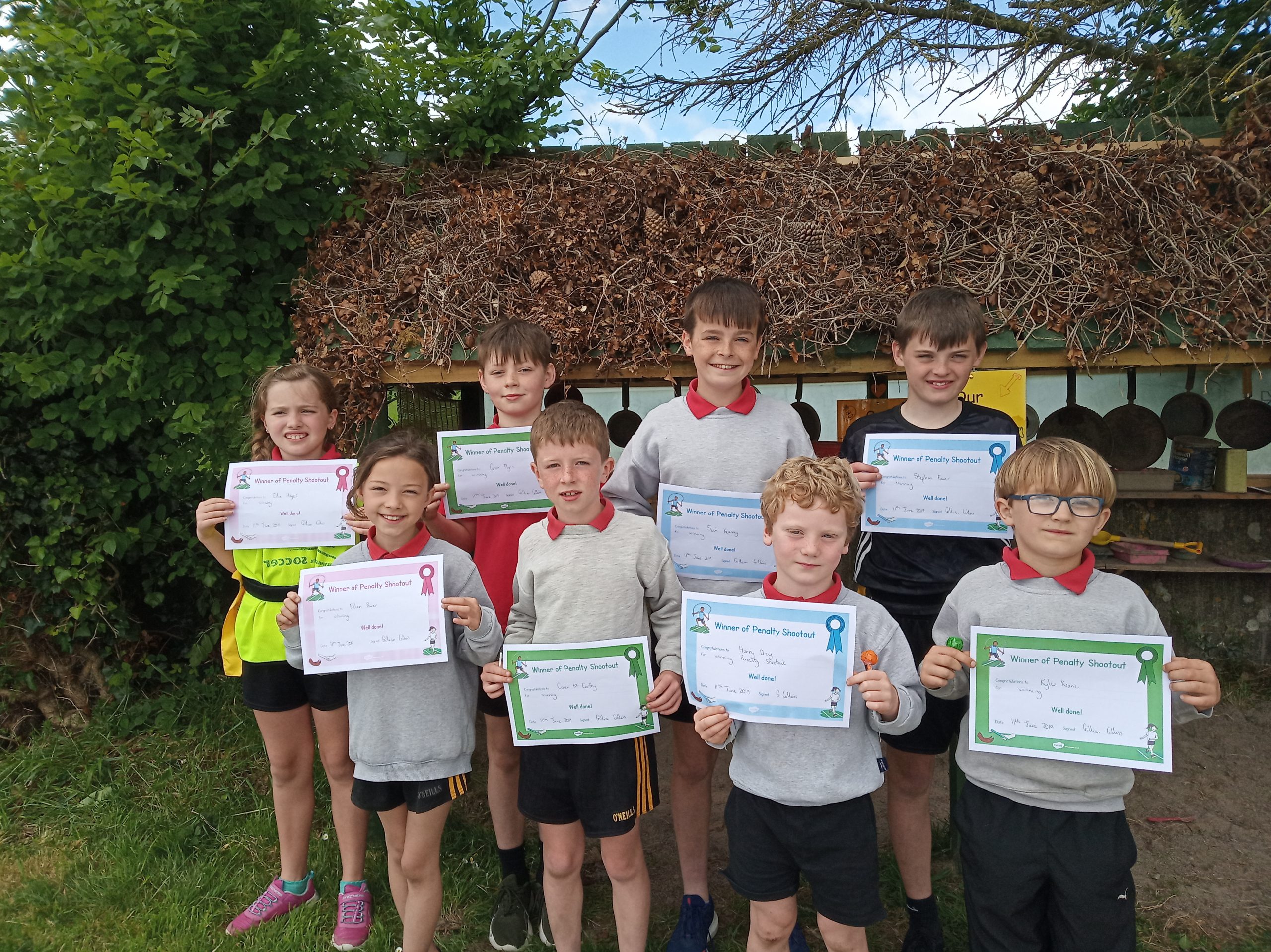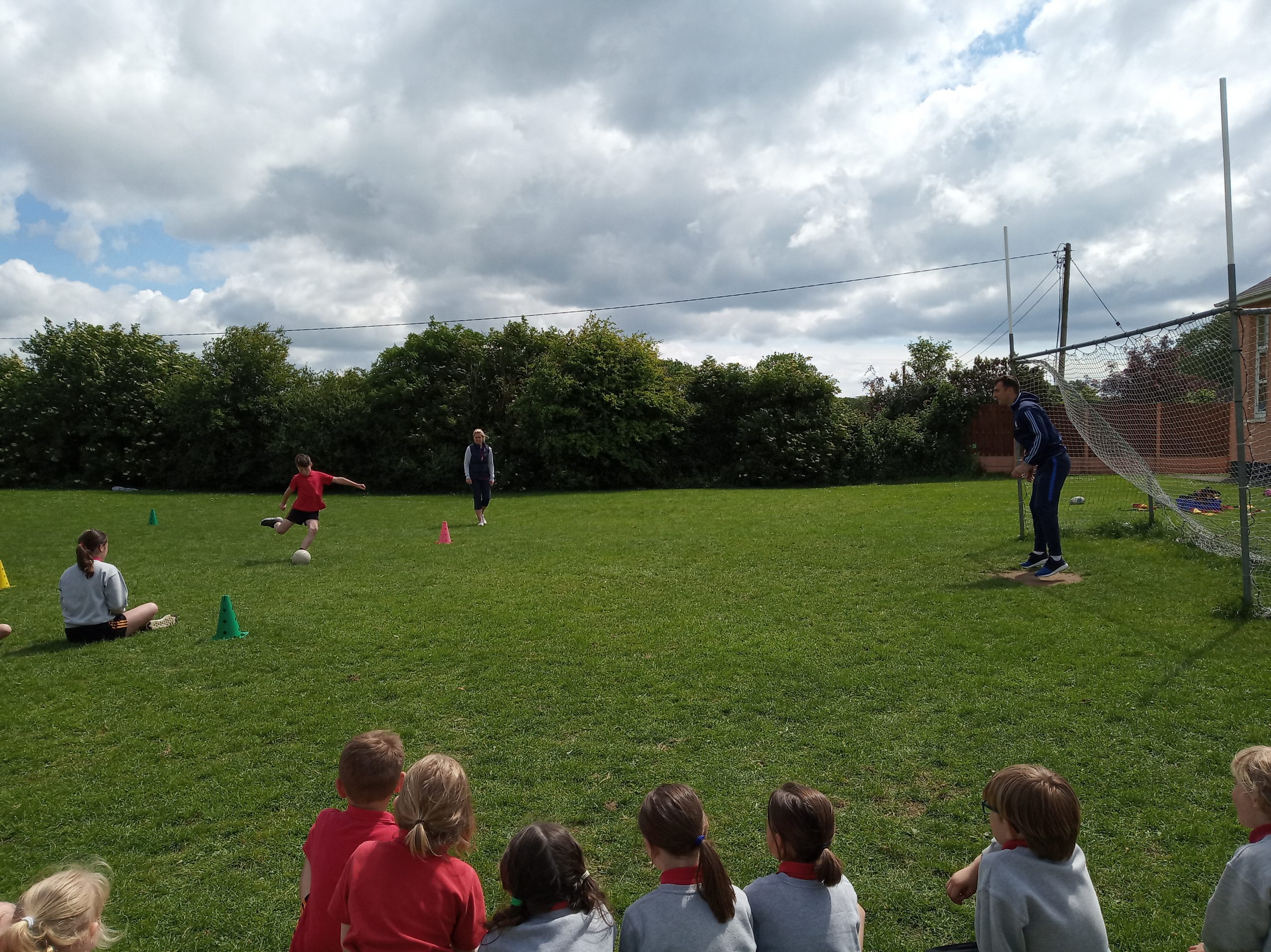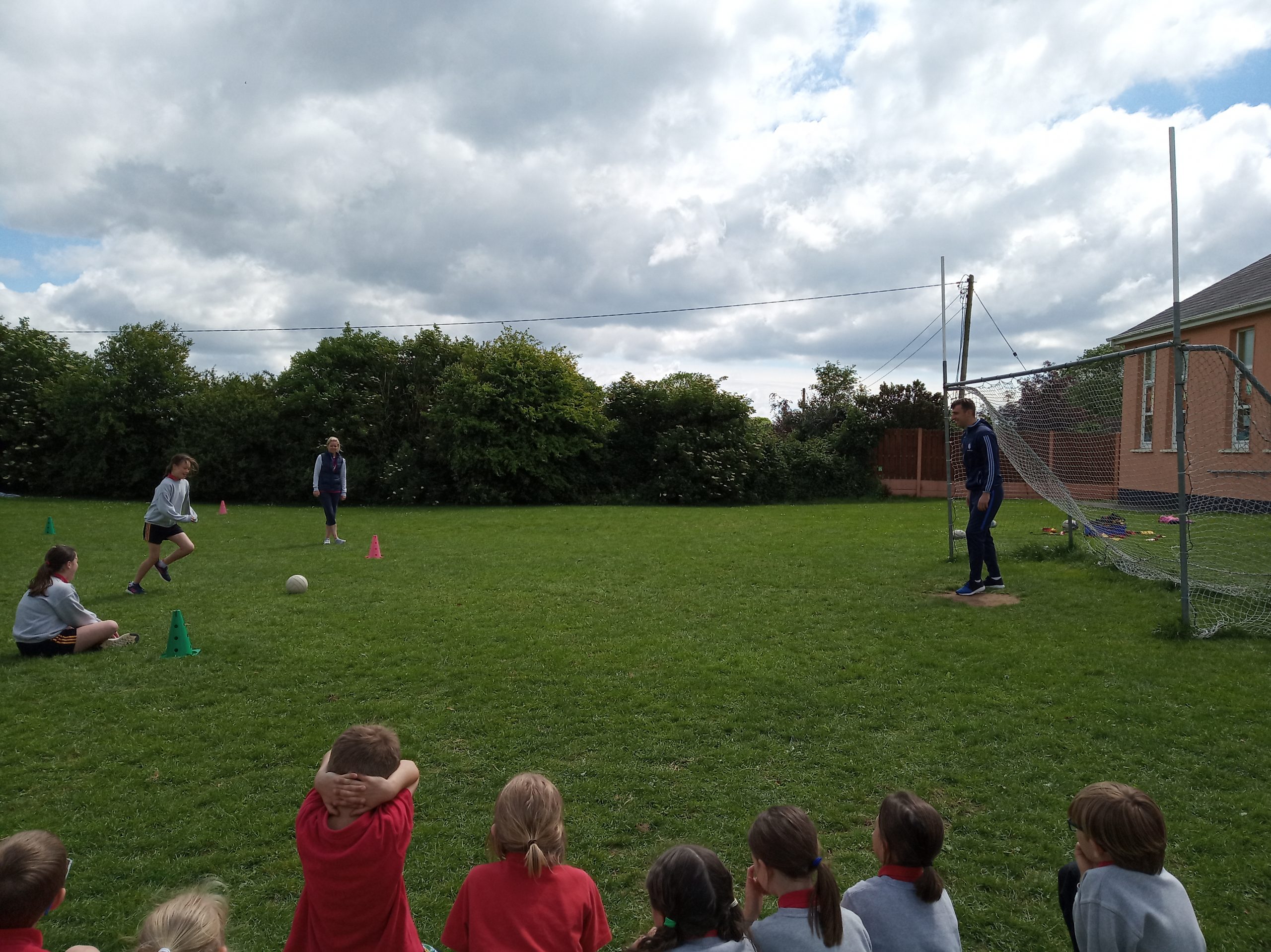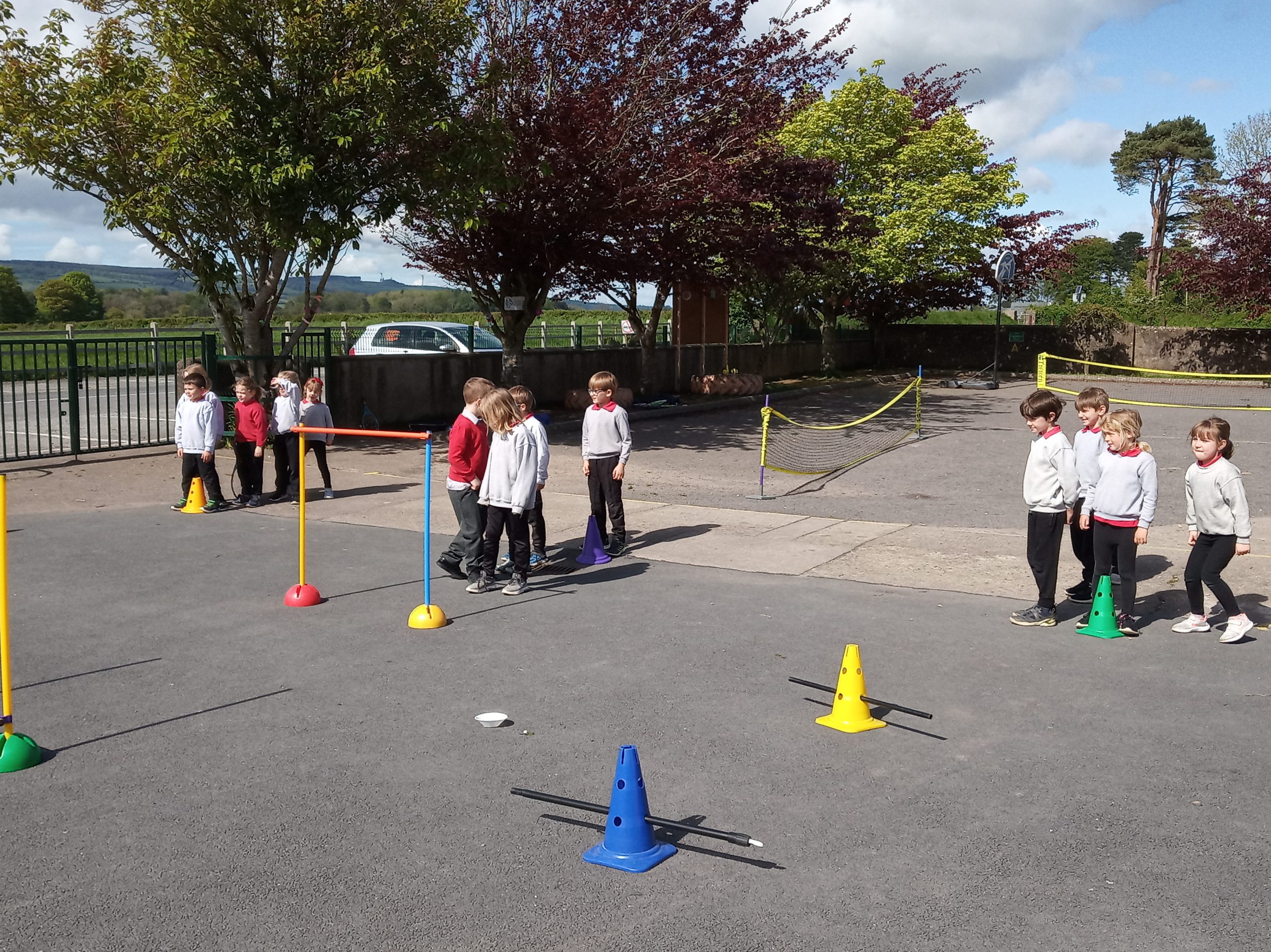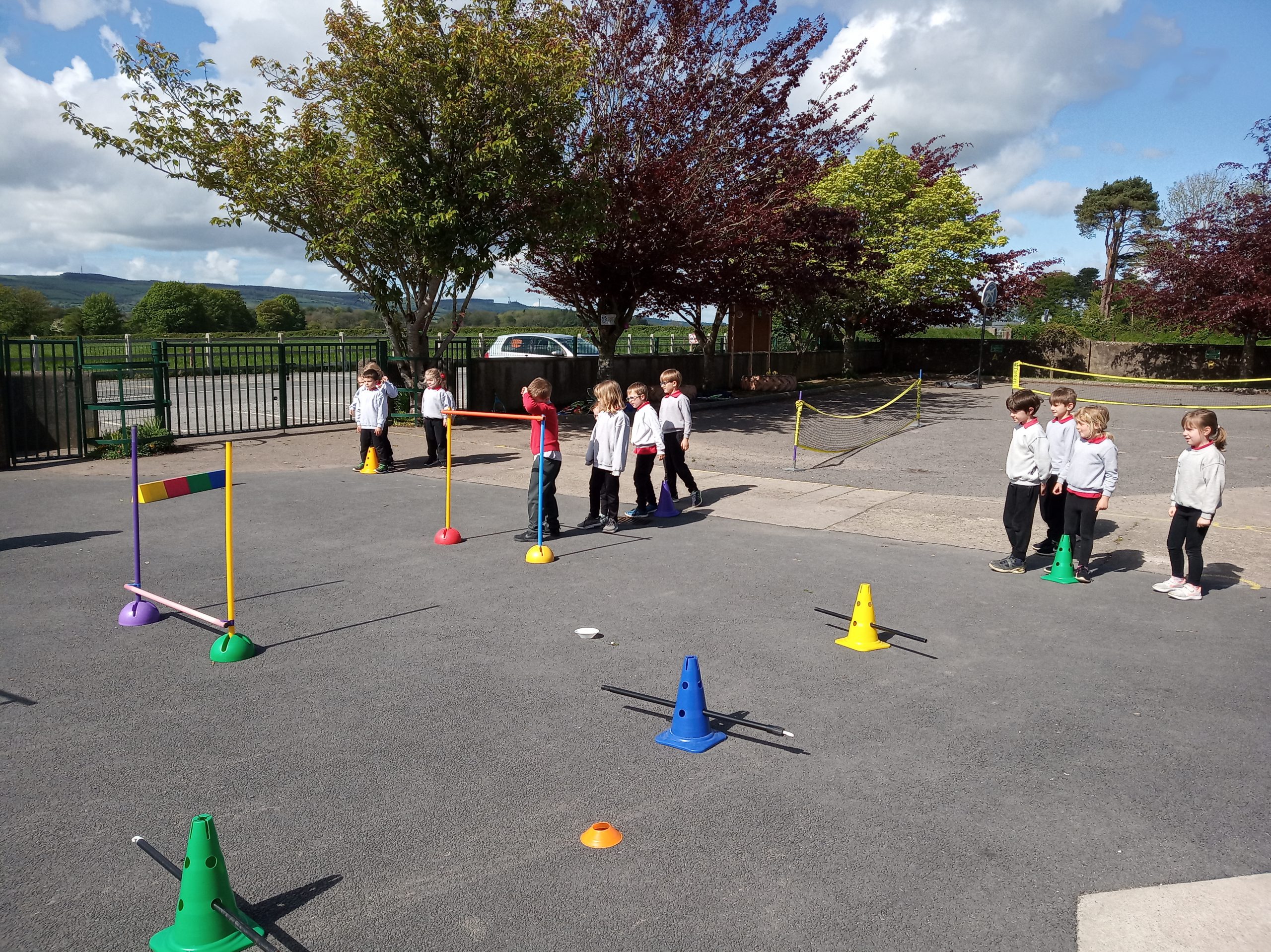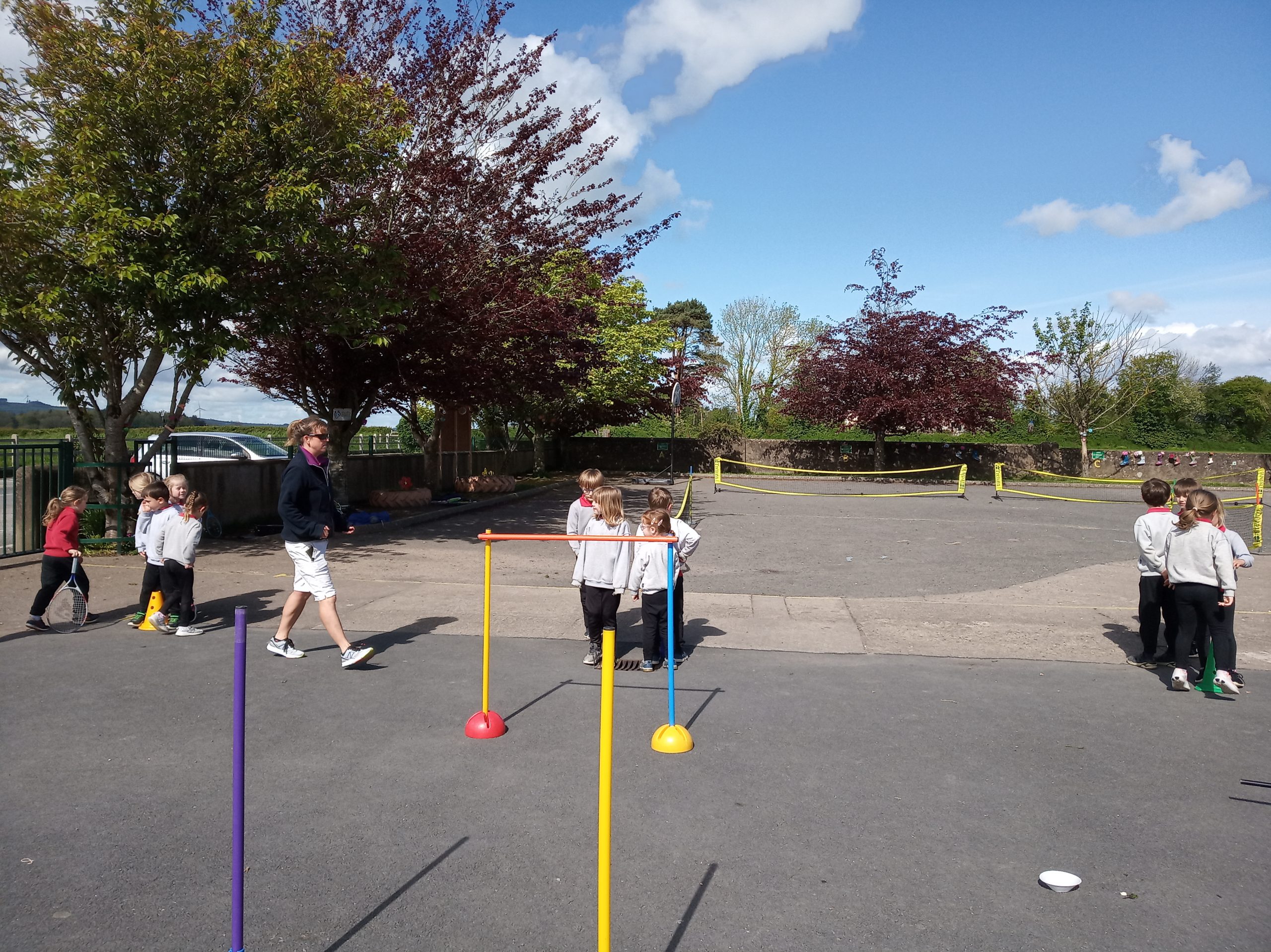 We were thrilled to have received our First Active School Flag in Carriglea N.S in June 2016. Our Active Flag committee works closely with our Health Promoting School Committee as we work on most initiatives as a team. We elected new committee members for the new 2019/2020 and they are working extremely hard towards renewing our flag.
Our New Slogan for 2020 is : Don't just sit, be active and fit. It is wise to exercise!
Brickeys GAA– We have a very strong-club link with our local GAA club. We use the local GAA pitch for our school's team matches in hurling and football and we have a coach who comes to us once a week for hurling and football.
GAA 5 star– we are partnered with the GAA and received our GAA 5 star flag in 2019. We continue to work on this initiative this year.
Active Flag Committee– A new active school flag committee was elected this year with the children writing letters of application to become a member. Our Active School Flag Committee is combined with our Health Promoting Schools Committee as we work on most initiatives together. Pupils are given various roles and tasks to carry out throughout the year such as giving messages to their own classrooms on the various initiatives, designing posters  for the school, carrying out surveys and asking for and checking out the suggestion box for ideas. Our pupils plays a very important role in organising and delivering our Active school initiatives.
Achievement Wall– We have an achievement wall across from Our Active School notice board. This wall contains a picture of each child and displays their achievements outside of school in the many and varied activities they get up to as well as achievements, both sporting and otherwise made in school. After small break each day, children are invited to visit all the classes to show case any medals, trophies or certificates they have received out of school and chat about them.
HSE Health Promotion– We received our Health Promoting Flag in 2018 and continue to work in partnership with our local Health Promotion Officer Tracey Tobin.
Super Troopers– All our pupils receive a Super Troopers journal which gives them Active Homework each night. Pupils are encouraged to do the activity each night as part of their homework.
Sports Partnership Waterford- we work with Sports Partnership Waterford to deliver programmes to our pupils to enhance their physical development and to up skill staff on various strategies to improve the delivery of PE in our school. This year two of our teachers are participating in Orienteering teacher training in association with the Irish Orienteering Association and the school will be mapped so we will be ready to go orienteering.
Cycling Ireland– our 5th and 6th class pupils receive cycling lessons through cycling Ireland in the summer term every second year. Pupils cycle to school f possible on these days and if not bikes are provided. For our pupils who choose to cycle to school we have a bike rack beside the teachers car park at the front of the school.
Food Dudes– This year we are participating in the Food Dudes initiative to show the child the link between healthy eating and exercise.
Swim Ireland Swim for a Mile Relay Challenge– We participated in the Swim Ireland Swim for a mile challenge in 2018, when it was our years to do aquatics as part of our PE plan. Each child received a certificate of completion and the school a medal also.
Active Homework Monthly Challenge- the Active School Committee came up with a list of ideas for active homework and these were given out to every child in the class in their homework journals. Each child could decide which activity to do nightly and colour it in. There was also space to put in some ideas of your own.
Playground Leaders-Pupils from 4th-6th class can sign up to become a Playground Leader. They give up two one lunch break each per week to play games with the junior and senior infants or 1st and 2nd class, ensuring they are active and involved throughout break time. Each class has a copy of the Playground Leader Rota hanging up in their classroom and the games change monthly. The Playground Leaders are trained on the new games for each month on last Friday of each month with the committee.
Active School Walkway– We have a designated walkway around the school. We used this for our Daily Mile Challenge in September and for warm-up activities for our PE.
A Mile A Day Challenge- the whole school participated in the Mile a Day Challenge for the last week in October, finishing on the day of the Halloween Holidays with a Spooky Walk. Along with our Daily Mile Challenge we incorporated the Daily Chat Wheel. Two members of the Active School committee went around with the Daily Chat Wheel each day and choose a child to spin t to choose the Daily Chat for the Daily Mile.
Fitness Advent Calendar– each child was given a fitness advent chart in their homework journal and had to complete the challenge on each day of the month of advent with rest days included also.
12 Days of Fitness Challenge-As part of our Health Promoting initiative the whole school took part in the 12 days of fitness challenge to the song the 12 days of Christmas and performed it outside as a whole school during the week of Christmas holidays.
Active Breaks– All classes take part in active breaks throughout the school day. This includes Go Noodle, Bizzy Breaks, Cosmic Yoga, Gníomhaíochta as Gaeilge and other types of movement breaks. On wet days, if the children cannot get outside at break time, extra time will be given to movement breaks in the classroom.
Tour of Europe Challenge– This running challenge will take place in September of each school year. Each class tracks their kilometres over the week and reaches a European landmark.
Lunchtime training Leagues– Mr. O Halloran has lunchtime training for the school football and hurling teams throughout the year and runs various lunchtime leagues in the summer term. Teams are made up of boys and girls from different classes and the children learn how to referee also.
Afterschool Training- O Halloran, along with our school coach Pat Connaghtan hold after school training for the children from 3rd-6th class on Wednesday evenings in our local GAA pitch, Bushy Park or on the Astroturf Pitch in Dungarvan Soccer club.
Mindfulness Monday- Each class participates in the same mindful activity from Go Noddle each Monday either at the beginning or the end of each day. These have a lovely calming effect on the children and they really enjoy it.
Carriglea N.S is committed to providing high-quality Physical Education to all pupils. All classes receive 60 minutes of formal PE lesson each week. All classes are taught the strands of Athletics, Dance, Gymnastics, Games and Outdoor & Adventure each year. Pupils from 3rd to 6th class also take part in Aquatics, having swimming lessons each year in the Park Hotel Leisure centre in Dungarvan.
Teachers use a variety of resources to guide them in delivering quality PE lessons. PSSI lesson plans are widely used throughout the school and we have focused on the Outdoor and Adventure strand for the school year 2019/2020 in order to build on resources in this area and have our school mapped. We have introduced the Move Well, Move Often programme to teach the Fundamental Movement Skills to all pupils. The teachers attended the fourth Move Well, Move Often seminar. In September 2019, we introduced a standardised PE timetable, meaning that all classes will be taught the same strand and Fundamental Movement Skill at the same time during the school year. This will allow for the for the sharing of resources and ideas among staff and ensure that an equal amount of time is given to each strand.
The children from 1st and 2nd are busy assessing each other's move well, move often balancing skills with the school Ipads.